Calendar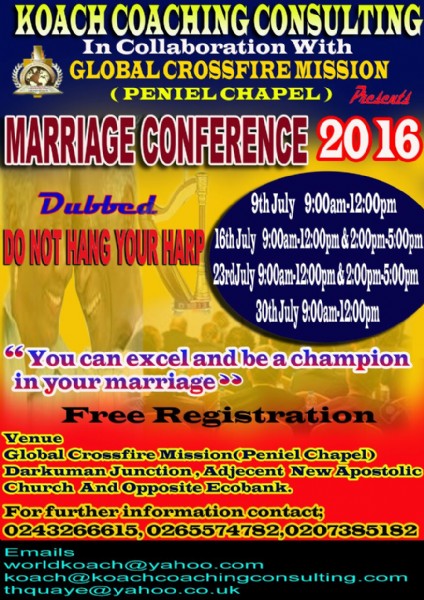 Topics will include
1. The Concept of Marriage
2. The Secret of Marriage
3. The Five Dynamic Portals of Relationship
4. The Triangle Platform of Marrage Gym
5. Tying it all up and
6. What were you looking of or wjat will you look for
---
Calendar for 2015.
Koach Coaching Consulting will be available for Coaching (Church and Ministry Leadership, Confidence,and Life), Public Speaking and Teaching (in churches/Christian fellowships etc,) and Business Coaching for 2015.
During this period Koach will be mostly in Ghana and could be reached @ +1233207385182.
Koach Coaching Consulting Services is located @ the premises of the Airport Catering Services Office opposite the Airport post office, Accra, Ghana.
You may contact us @
koach@koachcoachingconsulting.com
January 2015
Koach started the year with a meeting on Strategic Planning for the period 2015-2018 for the Global Crossfire Mission (Ghana and UK) and was attended by representatives of Destiny Transformation Centre church's ( located at the Zongo Junction) Head Pastor, Bishop Ebow Godsaye Simpson , who is also is the President of the Network of African Apostolic Ministers (NAAM).
Interview of the feedback will be posted separately.
The training covered topics such as, conception and definition of goals, programs, project management, activities, results, monitoring and evaluation, resources modeling, key planning steps. long and short term strategies, key measurements for objectives and results. It also included reporting and managing lessons learned as inputs into the next plan.
The sessions were facilitated by Ms Priscilla Gyamfi and Koach Odoom all of Koach Coach Consulting, Accra Ghana
July 2015
Koach will be consulting at the UNICEF office in Chad in the areas of financial management and staff coaching
August, 2015
Koach will be coaching, speaking and bringing ministry to two churches.
He will be the Guest Speaker at the New Creation Evangelistic Ministry at Catford, London from August 19-23.
At the Global Crossfire Church in UK, Ramsgate, Kent, Koach will be training and coaching members in areas such as:
-
-The Principles of Prayer Visions and Divine Patterns
Personal Spiritual Growth in Ministry and Life-Dealing with life Issues
of Life
Hearing from the Lord
Coaching for Life-Developing a personal ministry and strategic plan for a successful and fulfilling life.
Excelling in Teams for effective ministry impact and influence and
The place of intimacy for Kingdom influence and impact